INGREDIENTS
Tomatoes (Tomatoes, Salt, Calcium Chloride, Citric Acid), Plant-Based Ricotta Cheese (Water, Almond Flour, Sunflower Oil, Pea Protein, Food Starch-Modified, Sea Salt, Gum (Guar, Xanthan)), Durum Flour, Water, Portobello Mushrooms, Mushroom Mix (Shiitake, Nameko, Oyster, Porcini, and Portobello Mushrooms), Shallot, Extra Virgin Olive Oil, Garlic, Food Starch-Modified, Sherry Wine (Sulfites), Sea Salt, Basil, Vegetable Base (Sautéed Vegetables (Celery, Carrots, Onions), Salt, Sugar, Soybean Oil, Dehydrated Potatoes, Yeast Extract, Dehydrated Cabbage, Natural Flavoring, Beet Powder), Vegan Parmesan Cheese (Filtered Water, Potato & Rice Starch, Food Starch-Modified (Potato), Coconut Oil, Salt (Sea Salt), Rice Protein, Parmesan Flavor (vegan sources), Olive Extract, Vitamin B12), Spices, Sunflower Oil, Chicory Root Fiber, Sugar, Wheat Gluten, Vegetable Fibers (Bamboo, Psyllium).
Contains: Wheat, Almond
NUTRITION FACTS
Servings: 4, Serv. size: 4 oz (100 g,) Amount per serving: Calories 140, Total Fat 6g (8% DV), Sat. Fat 1g (4%),Trans Fat 0g, Cholest. 0mg (0% DV), Sodium 530mg (23% DV), Total Carb 18g (7% DV), Fiber 2g (9%), Sugars 3g, (Incl. 0g Added Sugars 0%), Protein 4g, Vit. D 0mcg (0% DV), Calcium 40mg (4% DV), Iron 0.9mg (4% DV), Potas. 100mg (2% DV)
INGREDIENTS
Tomatoes (Tomatoes, Salt, Calcium Chloride, Citric Acid), Plant-Based Ricotta Cheese (Water, Almond Flour, Sunflower Oil, Pea Protein, Food Starch-Modified, Sea Salt, Gum (Guar, Xanthan)), Durum Flour, Water, Portobello Mushrooms, Mushroom Mix (Shiitake, Nameko, Oyster, Porcini, and Portobello Mushrooms), Shallot, Extra Virgin Olive Oil, Garlic, Food Starch-Modified, Sherry Wine (Sulfites), Sea Salt, Basil, Vegetable Base (Sautéed Vegetables (Celery, Carrots, Onions), Salt, Sugar, Soybean Oil, Dehydrated Potatoes, Yeast Extract, Dehydrated Cabbage, Natural Flavoring, Beet Powder), Vegan Parmesan Cheese (Filtered Water, Potato & Rice Starch, Food Starch-Modified (Potato), Coconut Oil, Salt (Sea Salt), Rice Protein, Parmesan Flavor (vegan sources), Olive Extract, Vitamin B12), Spices, Sunflower Oil, Chicory Root Fiber, Sugar, Wheat Gluten, Vegetable Fibers (Bamboo, Psyllium).
Contains: Wheat, Almond
NUTRITION FACTS
Servings: 4, Serv. size: 4 oz (100 g,) Amount per serving: Calories 140, Total Fat 6g (8% DV), Sat. Fat 1g (4%),Trans Fat 0g, Cholest. 0mg (0% DV), Sodium 530mg (23% DV), Total Carb 18g (7% DV), Fiber 2g (9%), Sugars 3g, (Incl. 0g Added Sugars 0%), Protein 4g, Vit. D 0mcg (0% DV), Calcium 40mg (4% DV), Iron 0.9mg (4% DV), Potas. 100mg (2% DV)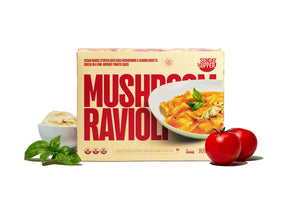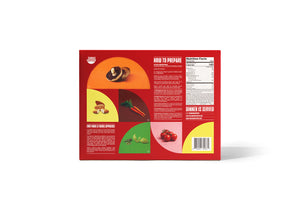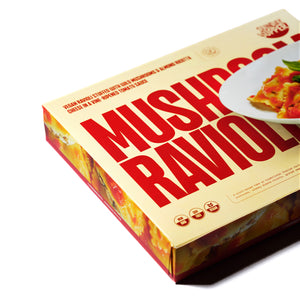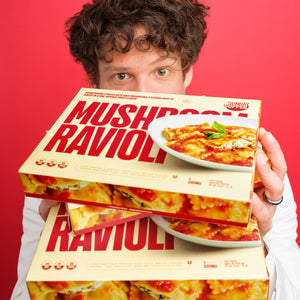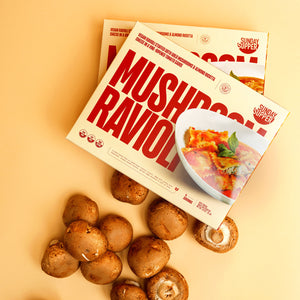 PLANT-BASED & CHEF MADE
We developed our lasagna with the help of award-wining Italian chef, Celestino Drago. With his skills, loving attention, and some of his own family traditions, we have transformed the traditional Italian lasagna into one that's made with 100% plant-based ingredients.
PLANT-BASED CHEESES
Our cultured nut cheeses taste unbelievably authentic and are made with simple natural ingredients like cashews, almonds, garlic, and lemon.
FINEST FRESH HERBS
Never dried, our fresh basil and oregano and added to our sauce at just the right time in order to maintain the delicate flavors.
FARM GROWN VEGETABLES
Our recipe is packed with carefully sourced fresh produce, just the way you'd expect from a home cooked lasagna.
SAN MARZANO TOMATOES
Traditional and Italian in origin, these tomatoes make the base of our sauce which is cooked for more than 24 hours to achieve a complex flavor profile.
HEAT & ENJOY
Bring 4 quarts of salted water to a rolling boil. Meanwhile, defrost sauce packet in a bowl of warm water. Once defrosted, open sauce package, pour into a saucepan and keep warm while pasta cooks. Add ravioli to boiling water. Cook for 5 minutes or until ravioli rise to the surface. Drain ravioli and add to warmed sauce and gently mix to coat pasta. Dinner is served! Cook from frozen. Do not microwave.
Customer Reviews
Angela G.

United States
06/29/2023
fantastic
I love my Italian family almost as much as the food. Lol. A devastating infection resulted in my inability to digest most foods. My Doctor hubby began to search for food his 94lb wife could be enticed to eat. Sunday Supper has been a life saver! The food is clean, I do not become ill after a meal, ( a first for a pre packaged product ) the taste is fresh, with depth of flavor, and perfect texture. I even enjoy adding some fresh rosemary and basil from the garden or extra sautéed mushrooms on top ( not that it's needed) just to mix things up and feel as though I contributed to the beautiful meal that I have the privilege to enjoy. I am only able to eat the "meat" free offerings. However, the well rounded fresh flavor in both cheese and mushroom ravioli not to mention the hearty lasagna do not leave me wanting a meat substitute at all. I can not convey how wonderful it is to be able to sit and enjoy an actual meal with my family again rather than awkwardly drinking a smoothie while they eat food. I would never have time to make all the vegan cheeses and ingredients and put these meals together and then sit and enjoy a meal with my family, so thank you, for giving that back to me. Excellent products that I will continue to order in the US and while abroad if available.