INGREDIENTS
Plant-Based Ricotta Cheese (Water, Almond Flour, Sunflower Oil, Pea Protein, Food Starch- Modified, Chicory Root Fiber, Sea Salt, Gum (Guar, Xanthan)), Tomatoes (Tomatoes, Salt, Calcium Chloride, Citric Acid), Oat Milk (Water, Oats, Sea Salt), Durum Flour, Spinach, Water, Plant-Based Cream (Water, Fabamilk (Water, Faba Bean Protein), Canola Oil, Palm Kernel Oil, Palm Oil, Sugar, Modified Corn Starch, Natural Flavor, Mono and Di-Glycerides, Salt, Guar Gum, Sunflower Lecithin, Locust Bean Gum), Shallot, Onion, Extra Virgin Olive Oil, Plant-Based Cream Cheese (Filtered Water, Coconut Oil, Potato Starch, Salt (Sea Salt), Glucono-Delta-Lactone, Flavor (Vegan Sources), Olive Extract, Vitamin B12), Food Starch- Modified, Vegan Parmesan Cheese (Filtered Water, Potato & Rice Starch, Food Starch-Modified (Potato), Coconut Oil, Salt (Sea Salt), Rice Protein, Parmesan Flavor (vegan sources), Olive Extract, Beta Carotene (Color), Vitamin B12), Sea Salt, Wheat Flour, Chicory Root Fiber, Garlic, Basil, Spices, Vegetable Fibers (Bamboo, Psyllium), Sunflower Oil, Wheat Gluten, Sugar, Onion Salt (Salt, Onion), Garlic Powder, Locust Bean & Guar Gum.
Contains: Wheat, Almond
NUTRITION FACTS
Servings: 4, Serv. size: 4 oz (100 g,) Amount per serving: Calories 150, Total Fat 9g (11% DV), Sat. Fat 2g (9%),Trans Fat 0g, Cholest. 0mg (0% DV), Sodium 470mg (20% DV), Total Carb 16g (6% DV), Fiber 3g (10%), Sugars 3g, (Incl. 0g Added Sugars 0%), Protein 4g, Vit. D 0mcg (0% DV), Calcium 50mg (4% DV), Iron 0.6mg (4% DV), Potas. 140mg (4% DV)
INGREDIENTS
Plant-Based Ricotta Cheese (Water, Almond Flour, Sunflower Oil, Pea Protein, Food Starch- Modified, Chicory Root Fiber, Sea Salt, Gum (Guar, Xanthan)), Tomatoes (Tomatoes, Salt, Calcium Chloride, Citric Acid), Oat Milk (Water, Oats, Sea Salt), Durum Flour, Spinach, Water, Plant-Based Cream (Water, Fabamilk (Water, Faba Bean Protein), Canola Oil, Palm Kernel Oil, Palm Oil, Sugar, Modified Corn Starch, Natural Flavor, Mono and Di-Glycerides, Salt, Guar Gum, Sunflower Lecithin, Locust Bean Gum), Shallot, Onion, Extra Virgin Olive Oil, Plant-Based Cream Cheese (Filtered Water, Coconut Oil, Potato Starch, Salt (Sea Salt), Glucono-Delta-Lactone, Flavor (Vegan Sources), Olive Extract, Vitamin B12), Food Starch- Modified, Vegan Parmesan Cheese (Filtered Water, Potato & Rice Starch, Food Starch-Modified (Potato), Coconut Oil, Salt (Sea Salt), Rice Protein, Parmesan Flavor (vegan sources), Olive Extract, Beta Carotene (Color), Vitamin B12), Sea Salt, Wheat Flour, Chicory Root Fiber, Garlic, Basil, Spices, Vegetable Fibers (Bamboo, Psyllium), Sunflower Oil, Wheat Gluten, Sugar, Onion Salt (Salt, Onion), Garlic Powder, Locust Bean & Guar Gum.
Contains: Wheat, Almond
NUTRITION FACTS
Servings: 4, Serv. size: 4 oz (100 g,) Amount per serving: Calories 150, Total Fat 9g (11% DV), Sat. Fat 2g (9%),Trans Fat 0g, Cholest. 0mg (0% DV), Sodium 470mg (20% DV), Total Carb 16g (6% DV), Fiber 3g (10%), Sugars 3g, (Incl. 0g Added Sugars 0%), Protein 4g, Vit. D 0mcg (0% DV), Calcium 50mg (4% DV), Iron 0.6mg (4% DV), Potas. 140mg (4% DV)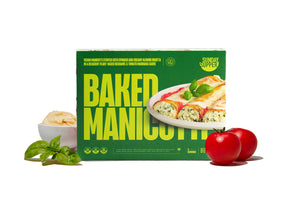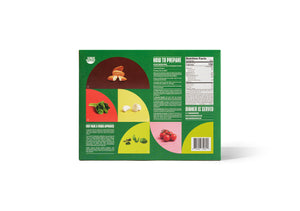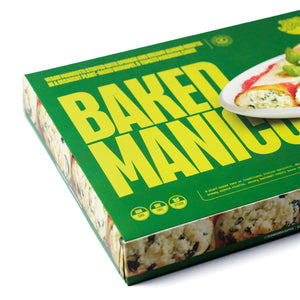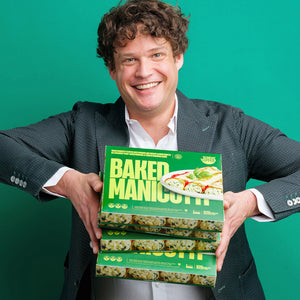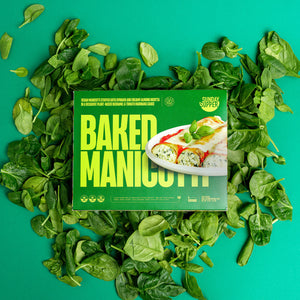 PLANT-BASED & CHEF MADE
We developed our lasagna with the help of award-wining Italian chef, Celestino Drago. With his skills, loving attention, and some of his own family traditions, we have transformed the traditional Italian lasagna into one that's made with 100% plant-based ingredients.
PLANT-BASED CHEESES
Our cultured nut cheeses taste unbelievably authentic and are made with simple natural ingredients like cashews, almonds, garlic, and lemon.
FINEST FRESH HERBS
Never dried, our fresh basil and oregano and added to our sauce at just the right time in order to maintain the delicate flavors.
FARM GROWN VEGETABLES
Our recipe is packed with carefully sourced fresh produce, just the way you'd expect from a home cooked lasagna.
SAN MARZANO TOMATOES
Traditional and Italian in origin, these tomatoes make the base of our sauce which is cooked for more than 24 hours to achieve a complex flavor profile.
HEAT & ENJOY
Preheat oven to 380ºF. Remove tray from box. Place on baking sheet on center rack of oven and bake for 45 min. Carefully remove film, return to oven and bake for another 10 minutes. Remove from oven and let stand for 2 minutes. Dinner is served! Cook from frozen. Do not microwave.
Customer Reviews
Winka D.

United States
11/07/2023
MANICOTTI: LOVE IT
Amazing how easy to prepare, stunning how much it feels like a restaurant made meal…...
Kristy M.

United States
09/21/2023
Delicious!
Delicious! I wish it were easier to get out here in the Boston area!
Brian J.

United States
08/28/2023
Sunday supper
yummy health meal !!
richard k.

United States
07/21/2023
Manicotti
Was the most delicious!
STEPHANIE S.

United States
03/31/2023
So Good!
Even our anti vegan cheese daughter devoured the manicotti and went for seconds! So good! Well done Sunday Supper!